Rupee gains more ground against dollar
Rupee closes at Rs221.66 against dollar.
Appreciates 0.12% in interbank market.
Currency dealers expect rupee to remain range-bound.
---
KARACHI: The Pakistani rupee continued to gain more ground against the US dollar on Monday following the positive sentiments due to the $13 billion funding assurance from friendly countries.
The local currency closed at Rs221.66, following an appreciation of Rs0.26 or 0.12%, compared to Friday's close of 221.92.
Currency dealers expect the currency to remain range-bound or appreciate slightly against the US dollar during the ongoing week as there is some resistance on the 221 level owing to the prevalence of the positive sentiment in the market supported by some good developments.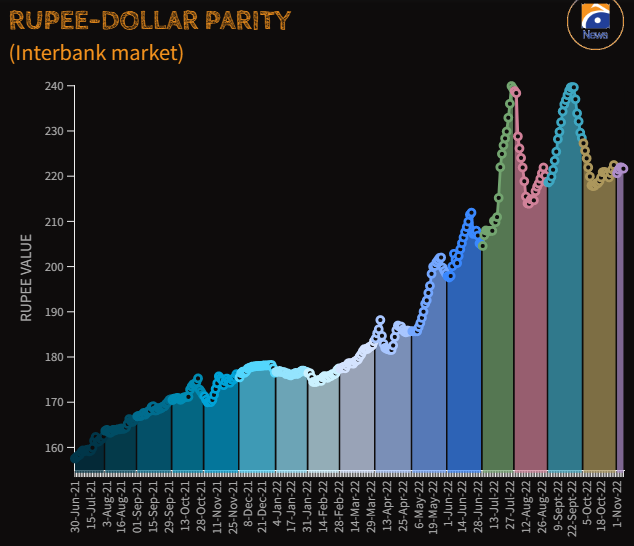 The forward swaps are once again in the positive range, indicating sufficient forex liquidity. Pakistan and China have signed a memorandum of understanding on setting up RMB (Chinese currency) clearing arrangements in Pakistan.
The country is expected to receive inflows from international financial organisations. World Bank has promised Pakistan $2.5 billion in flood aid. Additionally, the climate summit's participants' position is that afflicted nations should receive compensation, so help may continue to trickle in.
Meanwhile, the US dollar also sank on Monday against the euro and sterling supported by a risk on sentiment.
Against a basket of currencies, the safe-haven US dollar index fell 0.54% to 110.49. It had lost almost 2% at the end of last week.