Dobara Episode 30 Story Review – Engaging and Intriguing
Tonight's episode of Dobara was engaging and intriguing. After a long time, Mahir and Mehru's on-screen chemistry and their relationship took center stage even though Mahir showed more 'interest' in Narmeen than anticipated. The attention to detail in this particular episode stood out for me more than anything else. For this reason, this was the most well-executed and directed episode of Dobara. From the chai scene in the kitchen to the reasons for the delay of the flight; every single scene resonated with me. The story moved forward effortlessly and the performances were on point. Even though Dobara did drag in between, I am glad that these last few episodes are crisp and engaging. After watching so many recent dramas with miscasting and sloppy direction; I find myself appreciating Danish Nawaz's direction and casting more than before. Hadiqa Kiyani and Bilal Abbas Khan's performance in this episode made me believe they were a perfect match, ironically at a time when Mahir seems to be giving mixed signals yet again. This was also another one of those episodes showing how Mahir was better at problem-solving and getting what he wanted than anyone else.
Well Written and Executed
Tonight's episode opened with Mahir praising Mehru, just the way she expected him to. Soon, he was shown being the father figure to both Minal and Zameer. For the first time, we got to see these 4 as a family. I have to agree with Mehru, even though Mahir is much younger than her but he is far more mature than many others around him. He had to deal with real-life issues at a young age and had to look out for himself more than once therefore finding his way out of difficult situations is something that comes naturally to him. I loved the chai scene mainly because it was acted out so well.
This was another episode of Dobara with meaningful conversations. The way Mahir mentioned his past life more than once suggested right in the beginning that Narmeen's comeback had brought back memories. Mehru, obviously, had no idea what was going on but she could sense that there was something different about Mahir's behavior. Instead of ignoring Narmeen, Mahir actually decided to talk to her which was unexpected. Mahir was much more 'contained' in front of her considering how he actually felt. His demeanor and way of talking did not give away much which made this scene even more interesting. Narmeen sounded more bitter and it seemed as if she was more attracted toward Mahir even now. The camerawork and performances in this scene made it a treat to watch. The way he got Narmeen's number and then got in touch with her suggested that he felt there was nothing wrong with the two connecting in this manner. Later on, he went as far as calling her back and taking her out. Narmeen from the beginning appeared to be flirting with Mahir although her dialogues were not written on those lines Zoya Khan's performance definitely pointed in that direction. Bilal Abbas Khan on the other hand kept his performance subtle and it was difficult to comprehend Mahir's actual feelings. His actions definitely suggested that he felt he was entitled to being 'friends' with Narmeen. By the end of this episode, Narmeen confessed that she was still in love with Mahir.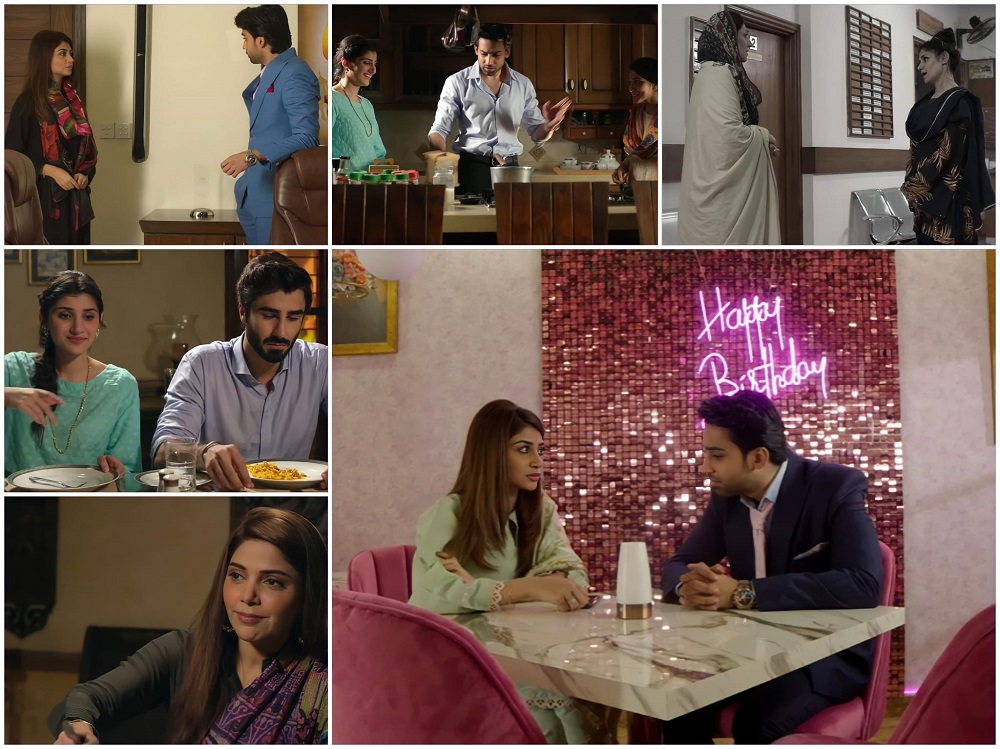 In this day and age, when there is a lack of communication between couples or anyone at all in dramas, it is laughable. Tonight, when Mehru failed to inform Mahir that she was leaving, it was one such situation. She could have easily sent him a voice or text message to inform him about her plans. Mahir's reaction however reflected his disturbed and confused state of mind. Mehru has her own way of showing her love towards Mahir, as the preview of the next episode suggested, she was shown inaugurating a hospital with the same name as Mahir's father. Babar found out about Narmeen tonight, I thought this was pretty interesting since I was wondering why Babar joined the office. He has a soft corner for Mehru therefore he will end up telling her about Narmeen. Right now, Mehru's state of mind is such that anything can be expected from her. She mentioned that she was willing to let Mahir go if that made him happy in the previous episode.
Final Remarks
I thoroughly enjoyed watching this episode of Dobara. It was not faultless but overall it was entertaining and well-written. It is difficult to predict how the drama will end since Mahir, Narmeen and Mehru's triangle is unlike any other. Will it be a happy ending for Mahir and Mehru or will Mahir and Narmeen be together in the end? It will definitely be better if Mahir and Mehru get a happy ending. I still have an ill feeling that something might happen to Mehru, I really hope not!