PSX soars over 800 points as Pakistan inches closer to IMF programme
KSE-100 index surpasses 41,000-mark.
Investors cheer news that Pakistan has completed all IMF conditions
Bullish trend also driven by appreciation of rupee against dollar.
---
KARACHI: The Pakistan Stock Exchange (PSX) soared during Wednesday's intraday trade as its benchmark KSE-100 index surged over 850 points after Islamabad completed the last pre-condition to revive the International Monetary Fund's (IMF) loan programme.
Encouraging financial results, rupee appreciation against the US dollar and an expected decline in oil import bills added fuel to the bullish trend as investors assumed fresh positions.
Economist and former adviser to the federal ministry of finance Dr Khaqan Hassan Najeeb said that investors must remember company earnings are the real driver of share prices.
"But more recently, the macro fundamentals of the country have been dominant in driving the PSX lower," he said, noting that as the country inches back to an IMF programme, investor confidence can return to PSX.
"Valuations are low and astute investors know it is a reasonable time to buy at low P/Es, companies with good earnings and solid management."
At close, the benchmark KSE-100 index closed at 41,068.87 points with an increase of 877.26 points or 2.18%.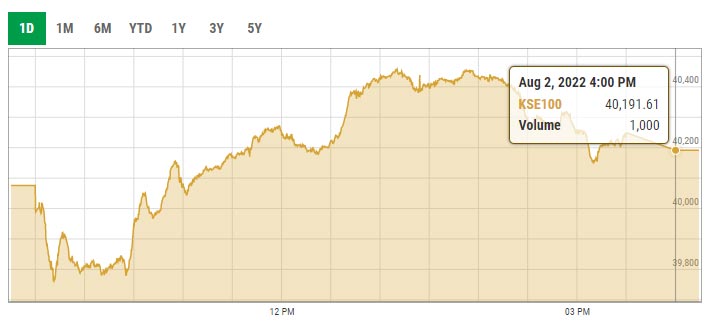 Arif Habib Limited in its post-market commentary noted that the market witnessed a bull run after clarity on IMF programme resumption which resulted in rupee appreciation against the US dollar.
"The investors rejoiced over the news as KSE-100 went up by 1,016 points during the session giving bulls an upper hand to remain active throughout the day. Hefty volumes were witnessed in the main board," it noted.
Sectors contributing to the performance included banks (+201.2 points), cement (+174.2 points), exploration and production (+92.2 points), oil marketing companies (+48.4 points), and fertiliser (+39.8 points).
Alpha Beta Core CEO Khurram Schezad said that once Pakistan gets IMF's $1.2 billion, there will be an unlocking of multilateral inflows, followed by bilateral and friendly countries.
The inflows, coupled with global and local recession will impact oil and commodity prices across the world, as a result, there will be much lower imports — thereby lowering demand for dollar outflows.
"This should help improve the rupee against the US dollar, at least for some time. It should impact the PSX positively too," he added.
Shares of 348 companies were traded during the session. At the close of trading, 258 scrips closed in the green, 68 in the red, and 22 remained unchanged.
Overall trading volumes rose to 333.02 million shares compared with Tuesday's tally of 217.50 million. The value of shares traded during the day was Rs10.01 billion.
WorldCall Telecom was the volume leader with 32.49 million shares traded, gaining Rs0.02 to close at Rs1.19. It was followed by TPL Properties with 29.19 million shares traded, gaining Rs0.94 to close at Rs19.92 and Unity Foods with 22.89 million shares traded, gaining Rs0.29 to close at Rs19.04.