Rupee's woeful ride continues, depreciates to settle at 223.66 against dollar
Rupee value has cumulatively decreased by 1.01% in past seven working days.
Local unit settles at Rs223.66 against the dollar in interbank market today.
Analysts say demand for imports is strong which is also increasing the parity as well.
---
KARACHI: Pakistan's rupee continued to sustain losses against the US dollar for the seventh successive session, settling with a depreciation of 0.22% in the interbank on Monday, as investors remained concerned over the ninth review of Pakistan's economy by the International Monetary Fund (IMF).
The currency lost 0.22% (or Re0.49) to close at Rs223.66 against the US dollar in the interbank market compared to Friday's close of Rs223.17. 
Meanwhile, in the open market, it settled at Rs231 losing Rs1.5 against the greenback compared to Friday's rate of Rs229.5.
Analysts believe that the following issues have resulted in the rupee sliding, these include:
Uncertainty over the ninth review by IMF
Growing risk of defaulting on its obligations to repay foreign debt despite Finance Minister Ishaq Dar's reassurance
Absence of a timeframe regarding incoming financing from Saudi Arabia and China 
The rupee has cumulatively decreased by 1.01% (or Rs2.24) in the past seven working days, compared to the November 10 close at Rs221.42, according to the State Bank of Pakistan's data.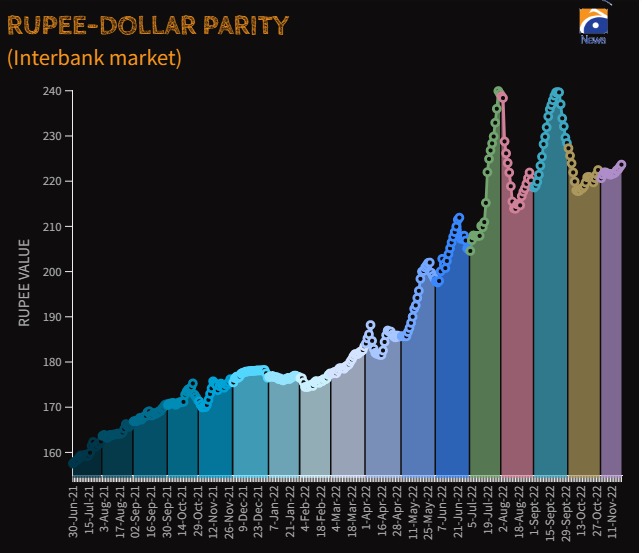 Speaking to Geo.tv, Pakistan-Kuwait Head of Research Samiullah Tariq said demand is higher than supply, and US interest rates have increased which has dried up liquidity.
Therefore, the demand for imports is strong which is also increasing the parity as well.
Globally, the US dollar was firmly higher against major currencies on Monday, as rising COVID-19 cases in China led to new restrictions and weighed on global investor sentiment.
The dollar was up 0.5% against Japan's yen at 141.07, its highest since November 11. Meanwhile, the euro was 0.62% lower against the greenback at $1.026.
The dollar index, which tracks the currency against major peers, has slid more than 6% from a 20-year high in October. Last month, a fall in the US inflation rate has driven bets that the US Federal Reserve will slow down its interest rate hikes.